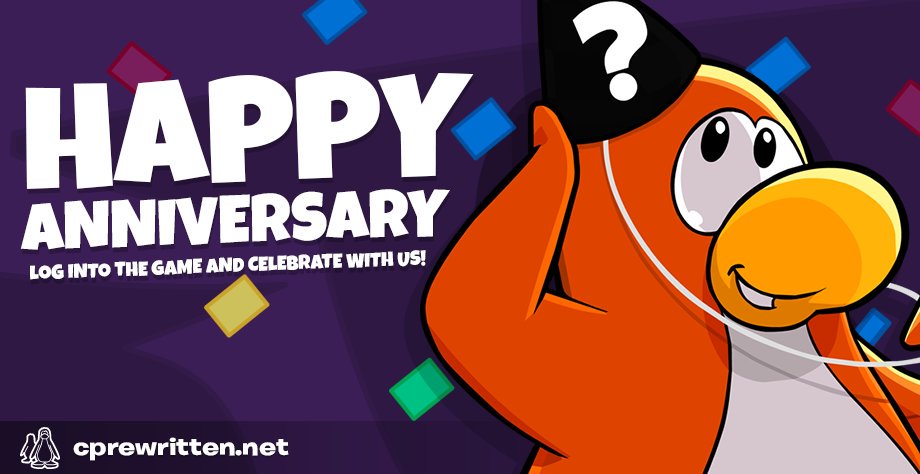 Hey everyone!
It's Club Penguin's birthday! CPR has honored that with an anniversary party along with a new party hat and several other new features! Click continue reading for our full guide!
The first thing you want to do when you log on is head to the Coffee Shop where the Cake is! Take a moment to admire the beautiful party and artwork done by the team.
You can see all the other past party hat's lining the walls, and on the far right, the newest party hat! But how do we get it?
First, waddle over to the cake,
Before we collect the hat, there is a stamp we can collect! All you have to do is roll across the candle on the top to blow it out and you will earn a stamp!
Then click the red propeller hat and click the button that appears underneath it.
And the hat will fall down! Just click on it to collect it!
After you have collected that you can now head over to the iceberg in order to tip it! This is a once in a year opportunity so make sure not to miss it!
If you're in a server where it seems there's not a lot of penguins trying to tip it, try logging off and logging on to a larger, 5 Bar, server. I would recommend Blizzard, or if that's full, Sleet.
Once you get there and there's a good amount of Penguins, all you have to do is put on your hard hat and press D to drill and with all the penguins working together it should tip pretty quickly.
Once it has tipped, you may collect your reward "The Iceberg Tipper"!
That's all for this party! I personally love these anniversary parties, they mean that so many people are still coming together and enjoying this great game.
Aunt Arctic occasionally visits for Anniversary Parties, so be on the lookout for her, you can join our tracker by clicking this link.
Until next time, Waddle On!
-CPR Cheats Team