Hello Everyone!
The fair is finally here! This is a great party with many new exclusive items, some of which require you to be playing and on the game a lot. So if you're into that log on now and start earning some tickets for those items! Click continue reading for our extensive post walking you through this party!
Before you log on, head to the Unlock Items Online page, and unlock a stuffed bunny and some coins with the code FUNFAIR19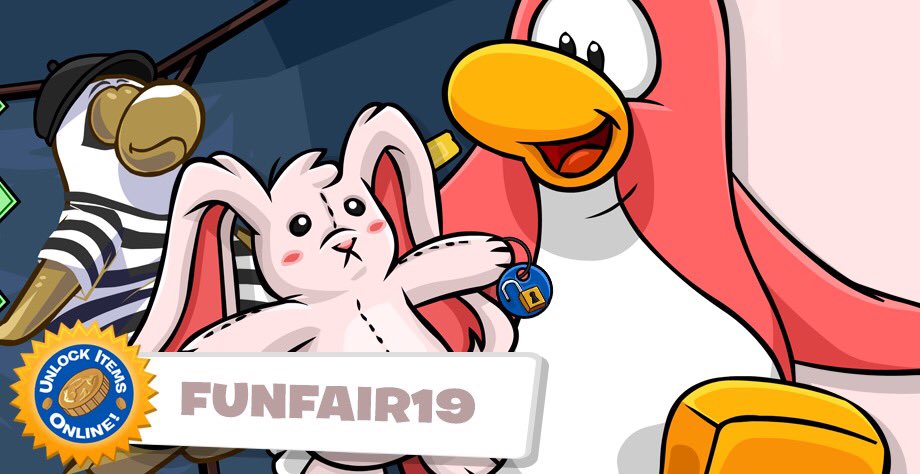 Then when you first log on, you learn some information from this penguin, take a look at what he says.
Alright, golden tickets, regular tickets, it's a lot to handle, but we're here to make it easy for you.
While we're here in the ski village, if you click on the red button on the camera, your penguin will walk over and take a picture and you can claim the "Step Right Up" background.
Next head to the coffee shop to earn a pin! Throw snowballs into the the funnel on the snow cone machine until it fills up and then it will make the Snow Cone pin for you to collect!
Lastly for free items, head to the Lighthouse and click on the black cowboy hat on the desk to collect the Luxury Cowboy Hat!
Next it's time to start playing games to earn tickets and golden tickets! Here is a list of where all the games are found:
Spin to Win, Ring the Bell, Puffle Shuffle – Dock 
Balloon Pop, Puffle Soacker – Behind Snow Forts 
Memory Card Game, Puffle Paddle – Forest 
Feed-A-Puffle – Cove
These are all great games and I encourage you to try out each one of them, however I have some favorites that are good for earning tickets the fastest. If you are good at memory, I would recommend playing Puffle Shuffle, I have earned over 1,300 tickets in one game of that, however I get bored of it quickly, so the other one I play is Feed-A-Puffle, I usually get 400 out of each round and it keeps me entertained.
Once you get a bunch of tickets, head over to the Forest or The Great Puffle Circus tent, (just behind the forest) to one of the booths to claim some prizes! A lot of them are pretty expensive so be sure to play lots of games! These items may not last the whole party so get them while you can! The second one by the Puffle Circus has two secret items!
Golden Tickets are awarded in a seemingly random way, however it seems that they are given around each 1,000 tickets earned. Some people like playing Ring the Bell, over and over again because there is a random chance you get a golden ticket after each game, however I like to play Feed-A-Puffle at least twice and then play Ring the Bell, and that usually speeds up the process for me. 
Once you get a golden ticket, head over to the dock and play Spin to Win. There are many different prizes here but your main goal is to try and land on one of the gift boxes.
Once you land on a gift box, you will be given one of nine prizes. We will reveal one but the rest are a secret for you to discover!
You can check out which prizes you have and don't have by clicking the tickets on the top right corner of your screen.
Don't forget that Rockhopper has also arrived bringing with him a bunch of his special items! You can check them out by going into the ship hold and clicking on the piece of paper on the bottom right of the screen!
These are some epic items so be sure to go collect them!
We also a have a Rockhopper tracker! Be sure to join it by clicking this link to join and be notified of whenever RH logs on!
If you have any questions feel free to ask! You can either comment below or ask us on our discord chat!
Until next time! Waddle On!
-CPR Cheats Team