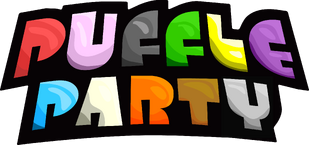 Hey everyone!
The puffle party is finally here with the new grey puffle! There are many cool things to discuss about this party so click continue reading to jump into it!
When you first log onto the island, head to the plaza wear you can pick up the Puffle Hat!
Next, head to the Ski Village and enter the Puffle Show, there you can obtain the Striped Puffle Jacket!
You can also get the "First Prize Puffle" background by standing on the stage and clicking the camera.
In most rooms a teal-ish colored book will be in the bottom right corner with an array of puffle attire to choose from, just choose the color you want and then choose the clothes you want!
You can also adopt the new GREY PUFFLE! Here's what the adoption sheet looks like
Last but definitely not least you can earn a party stamp! You can earn the "Party Puffle" stamp by walking your puffle to it's own party room!
Here's a list of the puffles and their rooms to make it a bit easier for you
Blue – Forest 
Red – Cove 
Pink – Iceberg
Black – Cave (Manhole in plaza) 
Green – Lighthouse Beacon
Yellow – Lighthouse
Purple – Night Club
White – Mine Shack 
Orange – Box Dimension (Enter through portal at Beach) 
Brown – Dance Lounge 
Grey – Coming Soon?
The most reasonable place for the grey puffle's room to be would be the dojo, when you get to the dojo, this banner is on the wall.
This most likely means that the grey puffle's room will be in the dojo, and we can visit it very soon!
That's all for now everyone! Mascots are very likely to visit so be sure to join our discord for the fastest tracking and best chance of finding them!
Until next time, Waddle On!
-CPR Cheats Team