Hello Penguins! Music Jam has just ended, but that doesn't mean the fun is over! Continue reading to find more about Rockhopper's arrival and the colour vote!
For about a week now, the Migrator was visible through the telescope of the Beacon, and now, it's docked at the Beach, waiting for you to check it out! There are also 4 amazing pirate-themed items to buy in the ship's store, which can be accessed from the main deck, a free Pirate's Bandana, a Green Parrot, an Adamiral's Jacket and a furniture item, a Ship in a Bottle! In addition, there is a Crow's nest room, that can also be accessed from the main deck!
Not only that, CPR released a vote stand at the Dock for you to decide what new colour you want; Maroon, Lavender or Dark Red. the voting will be available until the 5th of July! The results though will be out on the 11th.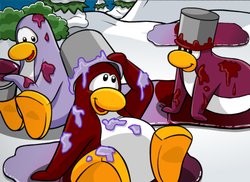 —
Do you like the new available items? Are you looking forward to meeting Rockhopper? Do you like the new possible colours? tell us your thoughts in the comments below!
<>

<>

<>

<>

<>
Lego~CPRewritten Author