Happy Earth Day everyone! Well, technically it's this Saturday, but the party has already begun on CPR! Awesome! Let's go over the Earth Day party cheats.
First, head over the Mine and collect your free Straw Gardening Hat.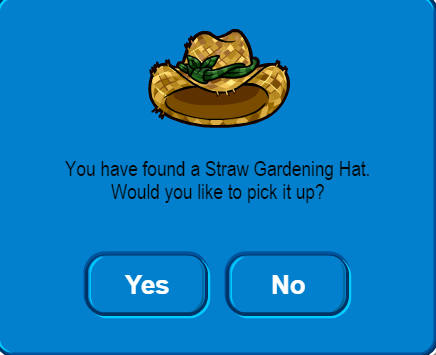 You might have noticed that a room has been added, the Recycling Plant. However, you cannot enter it until you've completed the hunt which we will go over right now.
The first clue reads, "Start your hunt, and look closely where, you'll find beans and some cozy chairs." Where can we find beans and a cozy chair? The coffee shop! You'll find a cup on top of the plant.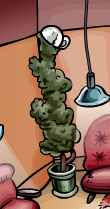 2. The second clue reads, "There's a mess spilled out on the floor, where you hear a Black Puffle snore." Head over to the Pet Shop and you'll find a fallen box in front of the puffle food.

3. The third clue reads, "From this place great waves can be seen, what you seek is near something green." Next, head over to the Cove. Look below your spy phone or above the left side of your chat bar and you'll find a barrel.

4. The fourth clue reads, "Use your map and you'll travel far, Garbage is found where ninjas spar." Where else would I find ninjas? The dojo of course! Look by the waterfall and you'll find a little hot sauce bottle.

5.  The fifth clue reads, "This trash is hidden do not fail, To search nearby some penguin tales." Head over to the Book Room. Click on the bean bag above the bookshelf.

6. The sixth clue reads, "Find green space, and look all around, For this thing fell on the ground." Go to the Forest. Look directly above you and you'll find a newspaper hidden behind a rock.

7. The seventh clue reads, "Where there's a ski lift you will find, Some trash that someone left behind." Go to the Ski Village and look near the EPF HQ.  You'll find a pizza box.

8. The eighth and final clue reads, "One last thing, That must be found, By tracks that take you underground." Go back to the Mine Shack. Click on the barrel in front of the entrance.

Congratulations, you've completed the Recycle Hunt! As a reward, you'll receive the Recycle pin!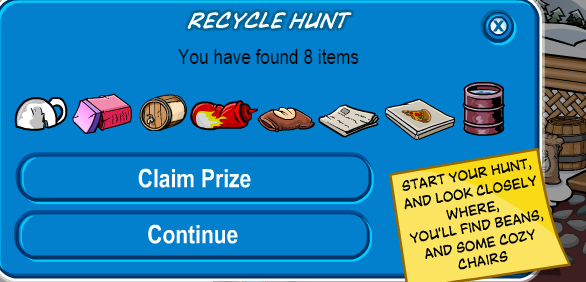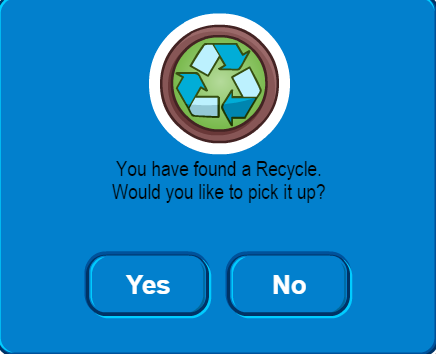 Now you can view the newly added Recycling Plant room.  Cool!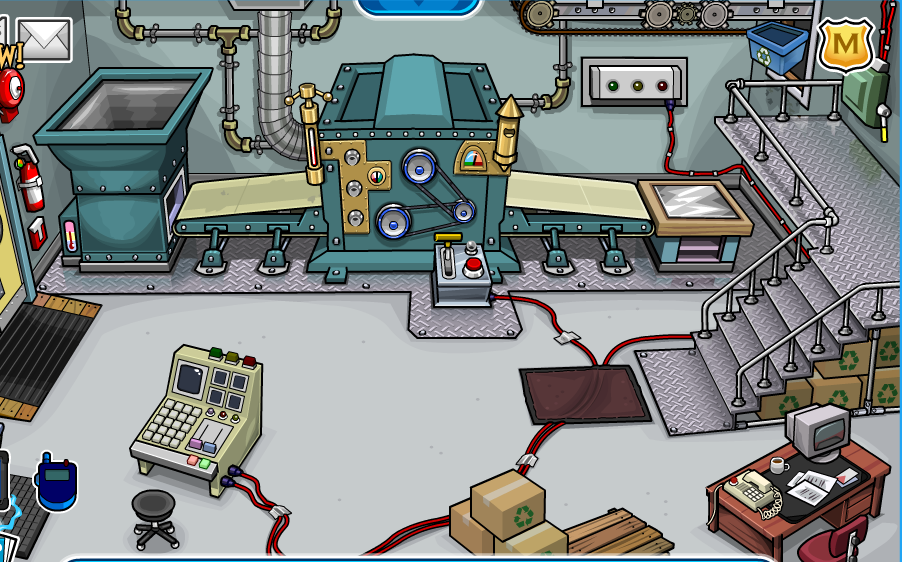 That's all for now. Enjoy the party while it lasts!